Thursday, March 2—March General Meeting
11:30am-1:30pm
Buffet lunch from Mendocino Farms, with an array of amazing salads, baby baguettes, and custom sandwiches that will include vegan, vegetarian, and gluten-free options.
Our program will be "Filoli – Creating a Vibrant Future." Over the past several years, Filoli has redefined itself as a cultural center on the San Francisco Peninsula that is welcoming and inclusive for the community. Filoli CEO Kara Newport and Board Member Donna Colson will share details about resonant programming centered on preservation and the natural environment that connects people to this incredible place. They will also discuss how Filoli is engaging in innovative new models for land management and site adaptation in response to extreme climate destabilization.
Monday, March 6—Modern Architecture from Around the World
6pm – 7pm
Modern Architecture from Around the World
From the Fabulous Architect Jerry Winges presents modern architecture from around the world—from the fabulous to the outrageous. This visually delightful presentation combines astute commentary and insights about the structures.
Jerry will also cover:
How architects work and how they create
Modern architectural style evolution and technology
History of skyscrapers and the latest super-tall buildings
Starchitects and fabulous structures around the world
Architecture appreciation for all.
FREE
EVERYONE is welcome!
Thursday, March 9—Bunco for Benefit
7pm – 9pm
Come play some bunco. NO experience is required. Winners choose a nonprofit to donate proceeds to on behalf of BWC. Light bites and drinks are included.
This event is for members and their guests.
Cost: $20
Thursday, March 16—Mark @ the Mic
7pm – 8pm, followed by Q&A
Hosted at the Burlingame Woman's Club
241 Park Road, Burlingame
Mark Lucchesi will interview JoAnneh Nagler, the author of the fiction collection Stay with Me, Wisconsin (Coyote Point Press, 2022) featured in Kirkus Reviews' Best Books of 2022, nominated for The Pushcart Prize for Fiction, and winner of The Global Book Award.
JoAnneh has also authored three nonfiction books: How to Be an Artist Without Losing Your Mind, Your Shirt, or Your Creative Compass (W.W. Norton); Naked Marriage (Skyhorse Publishing); and The Debt-Free Spending Plan (HarperCollins), two of which were Amazon Top-100 titles. Her books have been spotlighted in The New York Times, Cosmopolitan, The Huffington Post, Essence Magazine, LiveStrong Magazine and more. Recently awarded the National League of PEN Women Achiever Award, she wrote and directed the play Ruby and George in Love (Sonoma Arts Live Theatre Company), and composed two singer-songwriter albums, I Burn and Enraptured, available in all outlets. Her recent work has appeared in the journals New Haven Review, Glimmer Train, Gold Man Review, You Might Need to Hear This, and Mobius. She is a founding member of The Pacific Coast Writer's Collective, and has just completed a new novel, The Seven Mile Bridge. www.AnArtistryLife.com
FREE and open to everyone
Sunday, February 26–Meet California State Senator Josh Becker
6pm – 8pm
Elected to the State Senate in November 2020, Senator Becker represents the residents of California's 13th Senate District, which comprises most of San Mateo County and the northern part of Santa Clara County. He is the author of several bills focused on accelerating California's transition to 100% clean energy and net zero emissions, voter access and justice reforms, and leveraging technology to provide greater economic mobility for all Californians. Josh chairs the Senate Budget Subcommittee on Resources, Environmental Protection, and Energy, as well as the Senate Subcommittee on the Clean Energy Future. He also is a member of the Senate Budget & Fiscal Review Committee, the Senate Business, Professions, and Economic Development Committee, the Senate Energy, Utilities and Communications Committee, the Senate Transportation Committee, and the Joint Legislative Budget Committee.
Cost: FREE
EVERYONE welcome!
RSVP to reserve your seat.
Thursday, February 23—Cards at the Clubhouse
11am-3pm
Gather some card-loving friends and come to the clubhouse to play cards. OR, contact Arlene Citron if you don't have a group or are interested in learning how to play.
Cost: FREE
Event for members.
Contact: Karen D'Atri for more information.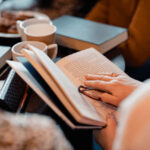 Wednesday, February 22—Evening Book Group
7pm-9pm
Don't miss the first meeting of our evening book group. We will be discussing Lessons in Chemistry by Bonnie Garmus. Drinks and light bites will be served.
Cost: FREE
Event for members and prospective members.
Contact Lucie Kober for more information.
RSVP to reserve your seat.
Wednesday, February 15—Book Group
11am-1pm
This month's book group will discuss A Town Called Solace by Mary Lawson.
Cost: FREE
Event for members and guests.
Contact: Cathy Borrone for more information.
ONGOING: BWC Beautification
BWC Beautification:
We are seeking volunteers to help us keep the area around our clubhouse nice and tidy. Since we are in a high-traffic area surrounded by trees, our clubhouse and the strip along Park Road need periodic cleanup.
If you are interested in more information or signing up for a cleanup shift, send us an email.
Wine Tasting with
Gerald Weisel, Weinmax
Needlework Night
with Wendi Upchurch
Tiki Party
with Lara McDonald
Cooking Class
with Emily Matthews
Brunch & Bloody Marys
with Wendi Upchurch
All Monthly General Meetings will be held at the Clubhouse, 241 Park Road, Burlingame, CA 94010
January 5, 2023
Lunch Meeting—11:30am-1:30pm
February 2, 2023
Dinner Meeting—6:00pm-8:00pm
March 2, 2023
Lunch Meeting—11:30am-1:30pm

April 6, 2023
Dinner Meeting—6:00pm-8:00pm
May 4, 2023
Lunch Meeting—11:30am-1:30pm
June 1, 2023
Dinner Meeting—6:00pm-8:00pm
Join us at the Clubhouse 4th Thursday of each month at 11:00am (except in December, when we meet on the 2nd Wednesday). Gather a group of four and join us for the card game of your choice. Ladies who are regulars play bridge, canasta, and more.
For more information, contact Karen D'Atri at 650-368-4756 or datrikaren@icloud.com.
Please let Karen know if you plan on coming, so we can have enough tables set up for the day.
Join us at the Clubhouse 3rd Wednesday of each month at 11:00am (except in December, when we meet on the 2nd Wednesday). Book club participants select books for the following year at our December meeting.
Below is a link to book list for this year and the books we have chosen in past years.
For more information, contact Cathy Borrone at 650-242-1685 or minirose_sonoma@yahoo.com.